Navy Radio - Puzzlers
Equipment I have questions about
---
WW2 era? Magic eye tube indicator - "Set gain to close indicator shadow to a fine line with equipment trained and tuned for maximum"
DF? RADAR? SONAR? Test Equipment?
See here for lots more info....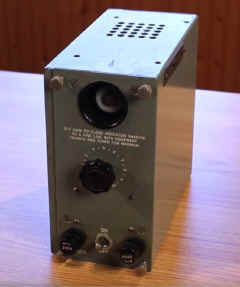 ---
The 07-82 issue of Monitoring Times has a brief article (see page 3) on a Navy Intelligence network out of Portsmouth NH using NBFM on 70-80 KHZ. Receivers pick up & multiply by 10 for up to 5 KHZ deviation audio - Does anyone have any info????
---
Box for Crypto Equipment?? or ??
---
What Radio Station Sites are these?
---
Rauland-Borg crypto mixer? part of a one-time tape crypto system? includes "PLAIN-CIPHER" switch, TD control, etc.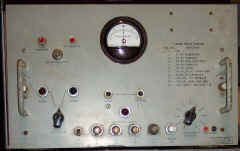 ---
Mystery Receiver
Schematic from a Navy training course showing "Typical SSB Receiver" which includes a motor-drive AFC for the HF oscillator.
Was there ever a Navy receiver like this???
Note: it is evidently not an RCA SSB-R3 which used motor drive AFC for the IF oscillator
---
1966 National HF Receiver Project - Any more info?????
The progress report covers the preliminary work accomplished on a remotely tuned HF communications receiver specifically designed for use in the Navy Southern Cross advanced communications program. The equipment to be supplied under this program consists of several modules. The first of these is a remotely tuned receiver front end of superior performance. This module contains RF preselection circuits using amplifiers employing beam switching tubes in accordance with the contractor's proposal; a specially controlled first mixer injection oscillator; several signal mixers for the achievement of a final intermediate frequency of 1750 Kc; control circuits for remotely tuning the RF system; and the means for achieving the dynamic range capability of the receiver front end via a low noise first injection oscillator through oscillator drift cancellation. The remaining three modules to be delivered under the present contract are individual IF modules which will provide the intelligence bandpass filtering and the bulk of receiver gain and AGC. Two of these will be used to establish upper and lower sideband reception with nominal 3 Kc bandpasses. The third module will be set up for full four-channel reception with a nominal 12 Kc bandwidth. The individual RF and IF modules will be constructed for interface compatibility with the mechanical construction established by N.E.L. for the Southern Cross program.
---
What is it??? Some sort of HF receiver system with panadaptors?
4 units showed up on ebay - one 200-500kc, the others 2-4, 4-8, 8-16 mc - those numbers are from memory - it was something like that?
Is it a Navy system? Army, Air Force, or AFSAV (NSA)?
Please send me e-mail if you have any info
Update - as of 5/16, Fair Radio had a LF unit for sale
---
What is it? - TONE-VOICE switch housing - about 10" long, 6" wide - the missing switch handle is labeled RECEIVE
- I've seen one somewhere but just can't recall where - some aircraft radio thing? please send e-mail if you have an ID and/or info on it.
Navy mystery transmitter - kind of like a TBW or GO-9 layout

---
Any info or photos on the following Navy prototype or limited use equipment greatly appreciated
Shipboard VLF communications system AN/SRC-26(XN-1) - what was this?
Radio Transmitting Set, AN/URT-9 (XN-1); Federal Telephone & Radio; NAVSHIPS 91846, 1953
(AN/URT-8 is related)
Radio Transmitting Set, AN/URT-15 (XN-1) - Manson Laboratories; NAVSHIPS 3535, 1960
Radio Transmitting Set, AN/WRT-4 (XN-1) - Hoffman Electronics; NAVSHIPS 93549, 1960
Radio Modulator, MD-150 (XN-1)/SRT and MD-150/SRT - Dumont Airplane & Marine Instruments; NAVSHIPS 93113, 1958
Power Supply, PP-1163 (XN-2)/URT - Federal Telecommunication Laboratories; NAVSHIPS 92529, 1955
Keyer, KY-43/URT - Munston Manufacturing & Service; NAVSHIPS 91138, 1948
Radio Receiving Set, AN/URR-30 (XN-1) - National; NAVSHIPS 91947, 1953 (R-571/URR-30)
Radio Receiving Set, AN/SRR-15(XN-1) - 2-32mc, National; Contract NObsr-63391 (1953) - Prototype for AN/WRR-2 (AN/FRR-59)?
"The AN/SRR-15 is a general purpose communication receiver for shipboard use having extremely accurate tuning dial and frequency control. A second version will have, in addition, circuits and facilities for reception of single-sideband suppressed-carrier signals." "Precision tuning with frequency accuracy determined by 100 kc frequency standard and frequency synthesizer ."
Radio Receiving Set, AN/SRR-16 (XN-1) - Radio Corporation of America; NObsr-71333 (1956), NAVSHIPS 92974, 1956
"The AN/SRR-16 is the AN/SRR-13 receiver modified for single sideband capabilities which is accomplished by the use of Radio Receiver R-441A/SRR-13 modified for external frequency control."
Radio Receiving Set, AN/BRR-3 (XN-2) - ITT Laboratories; NAVSHIPS 93439, 1959
Radio Receiving Set, AN/BRR-3 (XN-1) - Collins Radio; NAVSHIPS 93385, 1959
Control Monitor Group, AN/FRA-11 - Charleston Navy Yard; NAVSHIPS 92273, 1954
Modulator Power Supply Group, AN/FRA-16 - Lewyt Manufacturing; NAVSHIPS 92662, 1956
Transmitter-Teletype Writer Control Unit, Type C-492/SG - Northeastern Engineering; NAVSHIPS 91108, 1948
Controls transmitter off-on, carrier off-on, and transfer of teletype to transmit or receive, 3.88 Lbs, Draws power from teletype local loop.
---